This is how you maintain and take care of your BOEN oiled hardwood floor.
One coat of Freshen Up
When your hardwood floor is installed and before it is used, I recommended a coat of BOEN Freshen Up. If you use BOEN Freshen Up 1-2 times a year, you will preserve the matt look and durability of your hardwood floor. If necessary, use BOEN Freshen Up more often on the most trafficked areas in your house: they are more exposed to wear and need more care.
Hardwood flooring is easy to clean
Did you know that you should actually clean your hardwood floor with water as infrequently as possible? On a daily base, it is enough to just vacuum or mop the floor. When you mop your hardwood floor use BOEN Floor Soap (synthetic soap) mixed with water. Use as small amount of water as possible so that the hardwood floor is dry within three minutes. Stubborn stains can be removed with a stronger mix of BOEN Floor Soap and water.
DO NOT use ammonia or greensoap on oak floors.
Repair set for oiled hardwood flooring
If your floor get scrapes or nicks, it's good to know that we deliver repair kit to most oiled flooring types. If the hardwood floor is starting to become worn and dry, I recommend a coat BOEN Natural Oil.
Go to Products
Use our floor options and find the hardwood floor that fulfils your needs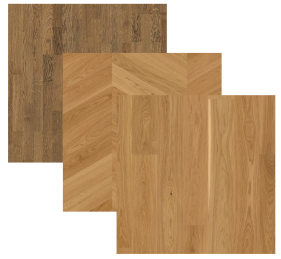 Go to Certificates
Respect for nature and for the requirement of environmental sustainability is reflected in our processing and management of raw materials.