When you buy a wood floor from us, you choose quality, innovation and respect for the nature.
The best of the tree
Most flooring suppliers buys wood from the same sawmill where the furniture industry buys its raw materials. The furniture industry pays a high price to get the best quality of the wood. We own three sawmills, which exclusively cut the logs for us. In this way, we can use the entire tree and therefore provide you parquet with a variety of gradings giving you a greater choice.
Withstand changing climates
Within our sawmills the drying process is controlled right from the start of the production to prevent parquet from cracking when installed, which can happen due to climate changes, especially in temperate areas of the world. Other parquet suppliers lose control of this process as they buy raw materials where the drying process has already started, usually between 18-20% RH, before they begin their production. We want to offer you the best quality in the market, that's why we like to have control right from the start.
Great variety of surface treatments and colors
The surface treatment effects the appearance and durability of the parquet. We offer three surface treatments. The award winning Live Pure, an ultra matt lacquered finish that looks and feels almost untreated, Live Natural oil and the popular Live Matt lacquer.
Quality is in our dedication: we apply 6 thin layers of oil, or lacquer, rather than fewer thicker layers. Our tests show that several thin layers increase the surface's durability.
Easy to install
To give you or your installer the easiest and best installation experience, we have chosen the two best patented locking systems for parquet flooring. The long edge of the board uses the trusted Clic profile from Unilin and on the short-end, the latest 5G joint from Välinge secures the laying. Using these two superior glue free joints saves time and frustration, making every installation easy. Why not choose BOEN 209mm wide Castle Plank, and install your new parquet even faster: the wider the board, the faster the installation.
Go to Products
Use our floor options and find the hardwood floor that fulfils your needs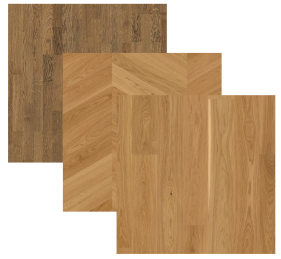 Go to Certificates
Respect for nature and for the requirement of environmental sustainability is reflected in our processing and management of raw materials.