This is how you maintain and take care of your BOEN lacquered hardwood floor.
Did you know that a lacquered hardwood floor should not be washed with household detergent (i.e. washing up liquid, or branded floor soaps that are not synthetic PH neutral) ?
Easy to clean without soap
You should wash your hardwood floor with water as seldom as possible. Daily, it is enough to just vacuum or dry mop the floor. Lacquered hardwood floors should not be washed with soap, because the fat in the soap will add an extra layer of fat on the floor's surface.
Also, DO NOT use ammonia or fragranced soap on oak floors.
Wash your wood floor with the right product
So, when you mop your hardwood floor use BOEN Floor Soap (synthetic soap) mixed with water. Use small amount of water so that the hardwood floor is dry within three minutes. Stubborn stains can be removed with a stronger mix of BOEN Floor Soap and water.
Maintenance of lacquered hardwood floors
If the hardwood floor is starting to become worn and dry, I recommend a coat of BOEN Refresher on Satin hardwood flooring. The same goes for BOEN Polish Mat for Mat lacquered hardwood floors.
Go to Products
Use our floor options and find the hardwood floor that fulfils your needs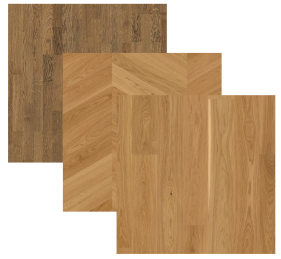 Go to Certificates
Respect for nature and for the requirement of environmental sustainability is reflected in our processing and management of raw materials.