Glued, nailed or floating? Parquet can be installed on most types of flooring. Choose the right underlay!
Choosing the right underlay is important. A hardwood floor underlay has to be of good quality to reduce movement and risk of squeaks. In addition, you get an underlay with very good audio characteristics.
Good to know
The sub-floor must be dry, level and self-supporting. Concrete sub-floors must be level and devoid of cement lumps, etc. The tolerance limit ± 3 mm per 2 running metres. For the UK: ± 3 mm over 3 running metres according to British Standard BS8204.
Moisture barrier: The floor must not be exposed for moisture from the sub-floor. An additional 0.2mm plastic foil has to be used on concrete floor to insulate against any remaining dampness.
Impact sound: Structure-borne noise inside neighboring rooms when walking on the flooring.
Walking sound: Noise generated inside the room itself when walking on the flooring.
Load resistance: An underlay with higher density or higher dynamic load reduces movement and the risk of unwanted sound both in the room itself and in neighboring rooms.
Problems such as uneven sub-flooring, moisture and sound transmission can be resolved with the help of technical expertise from BOEN's sales and service team. Please contact our sales tem for more detailed information.
If you are a professional and need more detailed information, switch to Professional mode.
Go to Products
Use our floor options and find the hardwood floor that fulfils your needs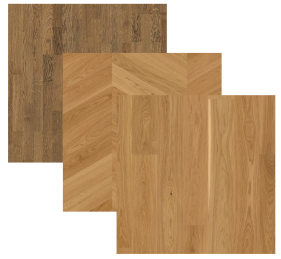 Go to Certificates
Respect for nature and for the requirement of environmental sustainability is reflected in our processing and management of raw materials.